Backyard Office Ideas - Pre-Construction
About two years ago, I started building lamps, go-karts and rehabbed a little sailboat. I filled our garage with tools and my wife, who normally parks in the garage, was forced to park outside. She wasn't happy.
Six months ago, I began researching how to build a "office shed" so I could have a workshop. During the research process, I found the difference between a "shed" and a "livable space or detached office" was minimal. A shed uses less structural reinforcement, no insulation, no drywall, and usually no soffits and fascia. I ran some estimates and realized I was going to spend around $5000 to build a space to "shed quality." Or I could spend around $7000 and have a building up to residential building codes, even matching the exterior of our home.
So I decided to build a "workshop" that could later be used as a detached office, guest space, craft room or man cave. The reality is a "shed" isn't counted within the square footage of your home value but a livable space is. For a potential future buyer of our home, a "shed" isn't as appealing as the space I decided to build.
The Building's Purpose:
Obviously, before you start building this structure you need to think about how you'll use it.
Will this be a detached office space?
What could future uses be? I wanted a workshop so I could work on little projects like go-karts and lamps.
Do you want a bathroom in your building? If so, research composting toilets.
Do you want running water?
Where will the electrical outlets go? Where do you want recessed lighting? Where should the light switches go?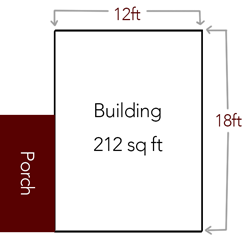 Choosing a building location: My yard is a rectangle oriented north/south. We have a corner on the southwestern side that is shaded and unused. I wanted a shaded spot because in Florida it's harder to stay cool than warm.
I wanted something near the fence so I could build organization racks for our scrap pieces of wood, etc. The fence will help keep rain off the wood. Be aware of city and county residential "setback" codes. A "setback" tells you how close you can build to your property line.
Design: In the process of designing my building, I wanted to keep the light coming in from the north and east side of the building to reduce heat. I don't mind the inside being a little dark, especially if one day I turn this into an office space, I don't want a glare on my monitor. Windows also limit your choices of room arrangement. I wanted double doors so I could open them up and let the air, smoke or dust out of the space easily. As we cover each specific building aspect, I'll go into more of the decisions I made.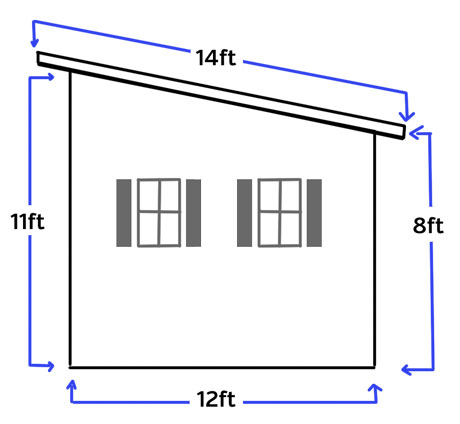 Some things to think about.
When you decide on a spot for your build, go stand where you imagine you'll have a window. Do you like that view? Stand in that spot in the morning versus afternoon. How does the light cast there?
A contractor friend said that building things 12'x12' is the easiest, cheapest way to build something. Siding and roofing are ordered in 100 square-foot increments. Walls are usually 8 feet, but 2'x4's come in 12 and 14 foot as well. Consider how many supplies you'll need to purchase when you're considering sizes, because you want as few scraps as possible.
If you move from your current house, what else could the next owner use this building for? Are there considerations you might think about for the next owner?
Consideration: Do you consider yourself a patient person? Have you swung a hammer before? If not, do yourself a favor and hire a contractor or buy a shed from a company that builds sheds. FYI, I looked at sheds from Home Depot, but overall they're really cheaply built. Building a 100+ square foot building is not a weekend job. It's probably $30+ square foot and 3-8 hours per square foot if you do it yourself. Building something over 50 square foot is time consuming, frustrating and even scary at times.