Basic Foundations and Sub-Flooring
Typical foundations for a small project are a concrete foundation or a wooden foundation.
Cement Slab Foundations cost more, but secure the building to the ground. I didn't choose this method because I was concerned about cost and falling into a "permanent construction" code requirement (if there's such a thing). Unless you're pouring a slab of less than 7'x7', I'd call a cement truck to deliver the cement. The slab will be 4" minimum but pour 6" thick to be safe. There's a bunch of videos online about pouring slabs, watch those. With a slab you screw your walls into the cement slab using concrete screws.
Wooden Sub Flooring: The wooden part of the building starts with wooden floor joists (pressure treated wood). The floor joists are built level onto the pilings. Floor joists are usually 2'x6', 2'x8' or 2'x10'. Mine are 2'x10' in the middle and 2'x12' exterior. The floor of your building will be similar to the construction of an outdoor deck. Here's a calculator of the spacing between joists. Mine are 16" apart. Joists are connected to the exterior joists via a metal bracket called a joist hanger; contractors call these "buckets."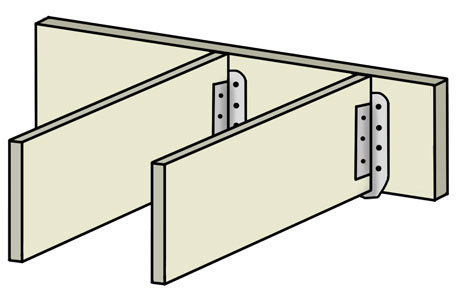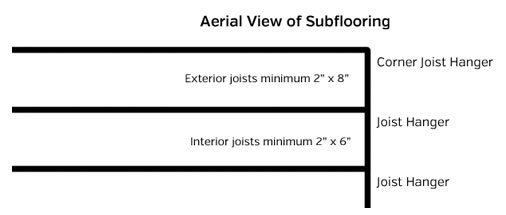 You don't want the wood sitting on the ground because eventually it will rot, so you either use in-ground pilings or sit the floor on the ground separated by some type of concrete block.
Piling method. 4'x4' posts are dropped into the ground down 1-3 feet, usually cement is poured around each piling.
Sitting cement block. This is what I did. I tore up an old outdoor deck and used it as the base of the structure I built. So I dragged the deck pieces across the yard with my Jeep. Then set them on cement blocks and leveled them. I attached the deck pieces together with "scabs" and lag screws that attached the pieces of deck into one level flooring system. In theory, I could move this building if I ever needed to. I'm using a mobile home tie-down strap so my workshop won't fly away during a hurricane.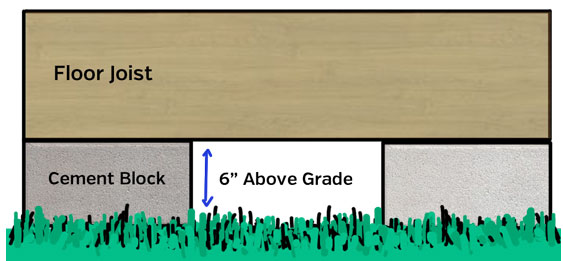 Sub-Flooring
"Flooring" typically means the materials you use as a finishing layer on the floor, like tile, carpet, hardwood etc. "Subflooring" is the construction layer between the foundation layer and the flooring.
On top of your slab or joists you have a few options. If I were building a workshop on a concrete slab, I'd just leave the floor concrete. Also research all the different concrete staining you can do with concrete. Concrete stains can give your plain concrete a more finished look. But I didn't do a concrete slab so read on.
Wooden joists get some type of subflooring, and I used oriented strand board or "OSB." Some people use plywood or tongue and groove planks. On top of the wood you can put carpet or tile or whatever you like. Personally, I left my OSB sheets exposed because I'm painting, welding, cutting and staining in my workshop and don't want to ruin any nicer, more expense floor treatments.